We at Moll Ireland felt it was time to relaunch our website so that our customers and viewers can relate to the on going effort and hard work our team consistently achieves in order to make Moll Ireland the plant of the future.
"Action Is The Foundational Key To All Success" Pablo Picasso
2014
November: Growth Through Export Award 2014
Letterkenny Chambers awarded Moll Ireland with a Highly Commended Award for Growth Through Export in 2014. This award is a result of the generation of business that Moll Ireland conducts overseas. Moll Ireland generates 70% of it's business with Belgium, Netherlands, Spain, Czech Republic, China and the Dominican Republic.
2013
March: SFA National Small Business Award for Manufacturing
The Small Business Association announced that Moll Ireland was the winner of the SFA National Small Business Manufacturing Award for 2013 for Achievement, Innovation and Excellence in small business. The SFA National Small Business Awards was presented for the company's achievements and to recognise the vital contribution of the small business sector to the Irish economy and to showcase Ireland's entreprenurial talent. Small businesses are seen as the engines for growth in Ireland.
"This is an amazing achievement for the company and it's an honour to receive a National Award considering the caliber of all companies in the competition"  Helen Masterson
2012
March: Business Development Award 2012
Moll Ireland received the Business Development Award at the Enterprising Donegal Business Awards 2012. The award was accepted by Helen and Michael Masterson for the development of a world class facility in Lurganboy, Donegal Town.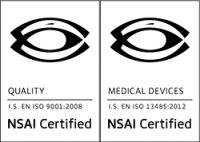 2011
June: Moll Ireland announce successful Certification to the ISO 13485:2003 Quality Management Standard for Medical Device.
On the 4th of June 2011, Moll Ireland received certification to medical device standard ISO 13485. This demonstrates the ongoing commitment to both product quality and attaining the required industry international standards. In compliance with ISO 13485, Moll Ireland has the capacity to provide medical devices and related services that consistently meet both customer and regulatory requirements. ISO 13485:2003 is based on eight quality management principles: Customer Focus, Leadership, Involvement of people, Process approach, System approach to management, Continual Improvement, Fact based decision-making and Mutually beneficial supplier relationships.
"ISO 13485:2003 certification brings world class status to Moll Ireland and provides confidence to our customers through our dedication to quality compliance, this certification will allow us to expand our offering to our existing customers and opens the door for us to enter new markets" Michael Masterson
July:  Article Published on Service, Partnership and Value in Medical Device Developments Magazine.
In July 2011, an article was published in the Medical Device Development magazine showcasing an insight into the service, partnership and value adopted by Moll Ireland. The article focused on the service and quality that Moll Ireland provide to it's customers and explained why Moll Ireland positions itself as "an expert moulding partner and outsourcing solution".
2010
June: Management Buy Out at Moll Ireland, Donegal Town.
It was announced that Moll Industries US sold 100% of it's shareholding in Moll Ireland. The future of Moll Ireland will be controlled from its base in Donegal Town. Moll Ireland's new shareholders Helen and Michael Masterson secured the future of the plant and will have full control of the company's growth, management and staff.
"The focus will remain- our clients, quality of our delivery and technology. The key priorities will be to strengthen our existing operations and identify new markets for export" Helen Masterson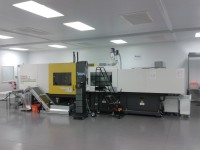 July: Increased Moulding Capacity
Moll Ireland invested in the additional moulding capacity of the 300t Fanuc Roboshot. The machine was supplied by experts JL Goor with John Goor himself attending Moll's Head Quarters in Donegal Town for delivery and installation.
Helen Masterson, Moll Ireland director said: "Investing in the additional moulding capacity of the new 300t roboshot is a great asset for our customers. It raises the already high level of productivity we deliver to a new level of output and efficiency which results in higher levels of customer service"
September: New Arrival of Moll's Generic Flip Top Bottle Cap
Moll Ireland continues to push the boundaries on Injection Moulding to new levels by introducing it's latest arrival, the "Generic Flip Top Bottle Cap", made from Polypropylene. This cost effective 24mm Flip Top Bottle Cap was made available to the market in a variety of colours to meet customer product specifications with a volume based component price structure. The cap is produced from a fully validated 16 cavity mould which has been designed to deliver both a high quality and cost efficient product.
A component specification and drawing is available with a quotation on request from "info@mollindustriesireland.com".